Frequently Asked Questions (FAQ)
Because a portrait session in my studio is a custom personal experience. In order to help you get the exact kind of session you are looking for, I need more information from you. I want to hear what you have on mind and what would you do with the images so I can offer my best products that fits your needs. Consultations are meant to break that ice between the photographer and the client and help you to decide if I am a good match for you as a service provider.
I do not charge a penalty for weather (in case of snow) or illness-related rescheduling. Please do not bring  yourself or a sick child to your session!.
I will gladly reschedule your session for the next  available date. The session fee is not refundable is you decide to cancel your session for any other reason previous 72 hrs. of your session.
Yes, I do, I only schedule one  Saturday per month per special client's request. There is a 100 extra fee for scheduling during weekends . Please email us at info@lizmarieportraits.com for more information.
Preparing for your session
Typically around 2 weeks. If you need to see them sooner, please let me know when you schedule your session. After 2 week of your session, We will meet at my studio for the Viewing and Ordering appointment. I will prepare a slideshow for you and load your retouched images to my special software.We will review together and select your favorites. I will predesign templates and wall galleries for your to see your favorite images. I will request from you to take a pictures of your empty walls with your cell phone so we can project the images in it.
I have  a defined style in colors and mood in all my pictures. Basic retouching can be done easily and without incurring any extra expense. This include soften and color correct skin and remove blemishes on the faces and fix some flyaway hair. 
As for more extensive retouching, we do offer the service for $25 per portrait.
At Liz Marie portraits we specialize in the finished product and, in our world, it's not finished until that portrait is hanging on your wall. Whether it's a large installation of your family gallery or a single, iconic image of your family or kids, we will deliver it to your home and professionally install it for you. 
Do you have any questions that weren't answered above? Please email me directly at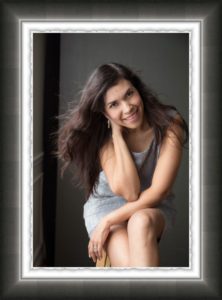 Liz McKuhen is a professional photographer in Virginia, she specializes in beauty photography and Headshots/Personal Branding and loves helping women and entrepreneurs with the photographs they need and they want to see of themselves.
If you have find yourself saying "I hate to be photographed", Liz will help you to love yourself again in pictures, with coaching in posing, exquisite ligthing and an amazing experience.